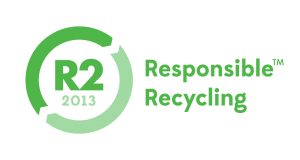 We strive to promote "Sustainable Redevelopment" in all of our transactions. As a certified ISO 9001, ISO 14001, OHSAS 18001 and R2:2013 certified handler of recycled material, sustainable redevelopment is a top priority at Interco.
It is our top priority to provide a comprehensive method of recycling which allows the greatest amount of material to be re-purposed in other industries, ultimately decreasing costs, increasing the amount of usable resources, and saving reusable material from entering the world's landfills.
Interco Trading Company Environmental, Health, and Safety Policy
Since its founding in 1996, Interco has remained committed to the responsible, safe and efficient handling of all materials material toward the goal of sustainable redevelopment.
As the second company in the world to be certified to the R2:2013 standard, Interco has a substantial commitment to making sure that focus materials are handled in the most appropriate way possible. R2:2013 focus materials are items containing: PCBs (polychlorinated biphenyls), mercury, CRT (cathode ray tube) glass, batteries and whole or shredded circuit boards.